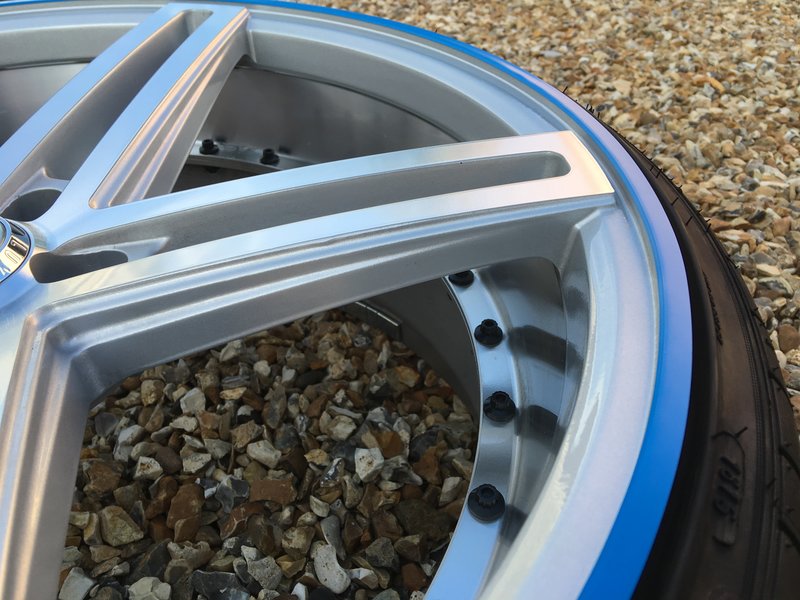 RimSavers
We have achieved outstanding high speed performance with RimSavers by making the rim protector with a thin wall to make it lightweight and reducing rotational mass, but by using an advanced plastic polymer that is immensely strong and stiff, we have also got a useful sacrificial barrier covering the alloy wheel edge designed to absorb kerb impact.
The RimSaver retains its shape on fitment for a professional looking finish. Once installed, they are tight fitting to the wheel and are like a hard shell around the rim surface.


 

A stiff fitting guide lip on the top side and a VHB (very high bond) tape are used to attach them to the wheel surface.  We use one of the very best VHB tapes available from 3M. The tape is sealed from the weather, brake dust, road salt & wheel cleaners by a double sealing lip. Once fitted you cannot see how the RimSavers are attached to the wheel. 
Add to this our highest ever quality wheel preparation kit, comprising of 3M IPA wipes and 3M 06396 adhesion promoters and superb retail packaging that fully protects the product in transit and we have a winning combination. 
RimSavers are cut to the required size during installation and we have also added some small injection moulded joining clips/seam seals to the kits with a tube of adhesive, so even if you get the cut slightly out when sizing them, you have a piece to cover the join. We've thought of everything. 


 


RimSavers are predominantly designed for the modern flat rimmed wheels common today, but will fit rims with a slight curve to the edge.

  All 

component parts on the Rimsavers kit are supplied by 3M to ensure consistent quality throughout. Rimsavers are then manufactured and packed in our factory in Cornwall. We even source our printed packaging locally in Somerset.